FOOD &FUN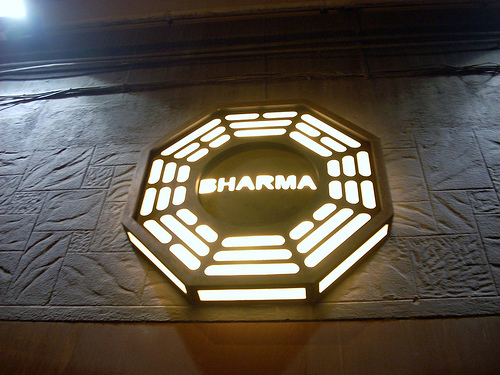 BHARMA:
is a restaurant located in Barcelona. If you are a fanatic of TV series Lost you have to visit it. It's a bar inspirated of this TV serie. The decoration is the more important in this bar, there are: the "Temple Door", the "Hatchway with the damned numbers", the end part of the "plane 815 Oceanic". The beers and beverages are the brand and the logo of "Bharma". And the sandwiches and tapas have the name of characters or titles of chapters.
DISASTER CAFE:

is a restaurant located in Lloret de Mar. It's a thematic restaurant where while you are eating suddenly the light are closed and started to sound some sounds and the floor start to shake; and you also. It seems a eartquake and you don't know when will happen.
ICEBARCELONA: is a bar located in Barcelona. As you can observe by the name is a ice bar. Al the room is of ice: the walls, the furnitures, the sculptures. The beverages are served at 5º C subzero temperature. The bar gives you an artic coat and golves. There is a exterior terrace also.
DANS LE NOIR: it's in Barcelona. It's a restaurant where you are going to eat without lights and you will eat and discover the taste without seeing. It's a way to check your other senses.






HARD ROCK CAFE: it's a coffe bar chain in different countries of the world. The decoration is with cultured rock objects such as famous groups guitars and the food served is typical northamerican. There are also videos of rock music groups playing all the time.



FOSTER'S HOLLYWOOD: a restaurant chain of american food. All the decoration of these restaurants are from american films, the whole environment is inspirated in Hollywood: it's a casual restaurant.
LA POSADA MALDITA: is a thematic terror restaurant located in Barcelona and Cerdanyola del Vallès. The food served is home-cooked food, which is different is the way to served it: with shocks, screams and also laughs. The decoration , as you can imagine, is all about terror.
-The strategy that has done these different restaurants is the differentiation. They use thematics environments and create the restaurant to be different to the normal restaurants and be original to attract more people.
Nowadays could be a good strategy to be different and try to surprise the customers. We think that there aren't enough restaurants like these and for them are good because it's a high entry barrier for a new restaurant that would enter.
- Have you ever been in some of this restaurant? Explain us your experience. Do you think that is a good differentiation strategy?